By Carlos Alberto Montaner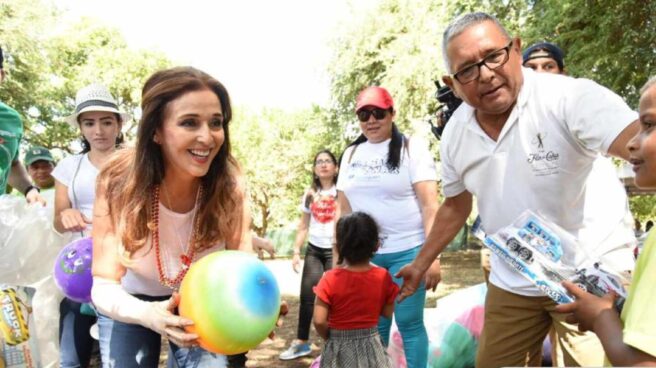 Mother Teresa was in Managua in 1988. Cardinal Obando organized a dinner for her and the author and her six-year-old daughter were invited. Suddenly the saint –she was not a saint in law back then, but she was in fact– said to the girl, "Take good care of your mother because she has a mission in this life."
She, the author, smiled kindly and didn't believe her. She thought she was telling her that out of courtesy.
The book was read with delight for three days. Delight and horror, like those scary movies in which pleasure comes from the fear we feel. It is written in straightforward prose, without pretensions or stylistic traps. The book, simple and well edited, with many photographs, almost all in color, even those that are unpleasant, compels the reader. It is titled Turning Tears into Smiles.
The author was traveling on Flight 414, in a Boeing 727, together with her husband, a prominent Nicaraguan businessman. She was worried. It was October 21, 1989. Her adopted country, Nicaragua, was preparing for the elections in which Violeta Chamorro would be elected in February 1990. They thought they would get rid forever from the evil Sandinismo after a decade of nightmare.
It was a regular flight on the Honduran airline TAN SAHSA. It carried 138 passengers and eight crew members. Only 11 people survived. It was an accident caused by the pilots' human error, the worst in Central American aviation history. The plane disintegrated against a hill near the Honduran capital. The wreckage caught fire upon impact. Written like this it seems like a report for an insurance company, but it was an incredible pandemonium in which the black smoke destroyed the victims' lungs.
The author was saved by her husband. With his face and arms burned (he lost several fingers in his left hand) he managed to untie the woman and lift her up. His wife had all her bones broken. All, those of the head, the trunk and the limbs. It was then that she began to think that if she made it out alive, she would dedicate herself to preventing other people from being disfigured by fire. After the first cures in Tegucigalpa, husband and wife were transferred to Miami. The doctors performed dozens of operations on her face, most of them through the mouth, and countless bone transplants and skin grafts.
Dr. Anthony Wolfe, the magician of plastic surgery, developed new procedures to treat his badly damaged patient. She spent months, years, in surgery, unable to speak, dying of pain, communicating through moans that her mother managed to decipher. She became addicted to morphine. It cost huge efforts to get that terrible drug out of her body. Fortunately, her family responded very well. Without them, perhaps she would have died of loneliness and sadness in the middle of a sea of ​​white coats.
Her name is Vivian Fernández de Pellas and her husband is Carlos Pellas Chamorro, one of the most diversified entrepreneurs in Nicaragua, the United States and Latin America, with interests in sugar, rum, hotels, banks, automobiles, construction. He descends from a Genoese Italian, a notable adventurer –like the Vicini of the Dominican Republic– who arrived in Managua in the 19th century, attracted by the passage of American caravans that traveled from coast to coast. Crossing the United States was more dangerous and slower. He fell in love with the country and its people. That's where the saga began.
Vivian is Cuban. She went to Nicaragua as a child. The family moved to the country in August 1961, without a penny, following a massive raid in Cuba, where her father was detained in a theater for many days. The prisons were insufficient for so many political prisoners. Once again the rule of the hard-working immigrants was fulfilled. Shortly after the family arrived in exile, they were already succeeding.
Wealth is in people, in the entrepreneurs, in that 20% that chase their dreams and drag the remaining 80% like a whirlwind. This is what the "Superior Council of Private Enterprise" (COSEP) tries heroically to explain. It is the extended Vilfredo Pareto norm, although the Italian mathematician, who lived in the 19th and 20th centuries, did not speculate on this statistical mystery. Perhaps it is the fact that Roberto Argüello gave me when we talked about this article –Nicaraguan bankers are the best in Central America. Why? It is not known. But there is no doubt that Ramiro Ortiz Mayorga is among them.
Mother Teresa was right. Vivian and Carlos Pellas have founded APROQUEN in Managua. They have a burn unit that is the best in Latin America. The corporation covers all expenses. That is having a social conscience. What is the value of being an economically successful person if you are surrounded by infinite poverty and do nothing to avoid it? Vivian Pellas has a mission –to turn tears into smiles. And she often succeeds.